About Lisa Lund & Matt Oliver
Seasoned Solar & Mortgage Professionals
Lisa Lund & Matt Oliver are seasoned mortgage professionals with over 20 years of experience in the industry. They have helped countless clients navigate the complex process of securing a home loan and have a passion for finding creative solutions to meet their unique needs. Recently, they have taken their commitment to helping clients acquire their dream home a step further by launching a new solar venture. With their extensive knowledge of finance and real estate, they are able to bridge the gap between homeowners and renewable energy solutions. Their company provides comprehensive solar packages that make it easy for homeowners to transition to clean energy. Lisa & Matt's blend of mortgage and solar experience allows them to offer a unique perspective to their clients and provide them with customized, eco-friendly solutions that suit their individual needs. Whether you're looking to purchase a new home or make your current one more energy-efficient, they are dedicated to helping you achieve your goals.
7170 W. Camino San Xavier, Suite A-104

Glendale, AZ 85308
The Benefits of SOAR
There's never been a better time to take back control of your energy.



Shield Yourself From Blackouts

Protect Against Future Increases


Increase Your Home's Value
Find out how much

you can

save


with SOAR with


$0 Down
Why SOAR Energy?
A Custom Experience
Just as no two fingerprints are alike, we believe that your SOAR solution should be a perfect match for your household's lifestyle and financial goals. We take the time to analyze your home plans, tax situation, and lifestyle to create a SOAR solution that truly fits your needs.
We Know Homeowners
Our team is comprised of seasoned professionals with decades of experience in real estate, finance, and SOAR energy. With this deep understanding of the industry, we're uniquely positioned to help you navigate the SOAR journey with confidence and ease.
#1 Reviewed Installer
SOAR Energy powered by Better Earth is PEARL certified, a distinction earned by only 5% of SOAR companies who meet extremely strict requirements. With our well- capitalized status, you can be confident that your SOAR system is in the hands of true professionals that will be here for years to come.
Certified Value
As real estate veterans, we ensure that your personalized SOAR solution will only ever bring value to your i home, whether you plan on selling - soon or staying for 20+ years. We offer an appraisal-ready verification of the value of your new SOAR system at absolutely zero additional cost.
Everything In-House
When we say we do everything in-house, we mean it. From the moment you're introduced to SOAR all the way through activation, everyone you work with and everyone working on your project is an in-house employee. No outsourced contractor work.
Over 60+ Years Experience
With our founders' 60+ years of combined real estate, mortgage, and SOAR experience, and thousands of owned properties, our management team knows homeownership inside and out. This knowledge empowers us to custom-tailor the ideal SOAR solution for you.
Why SOAR Now?
6 reasons why NOW is the best time to go SOAR:
30% Federal Tax Credit (take as cash or get 30% off of system cost)
Lock In Your Energy Costs Today. Beat Inflation!
Reinvest Your Savings and Take Control of Your Financial Future
Reduce Greenhouse Gas Emissions & Mitigate Climate Change
How the SOAR Process Works
Start
Client Provides
Energy Bills


Custom
Proposal Review
Site Survey


Design
Approved
Permits
Approved


SOAR System
Installed in 1 Day
System Inspected
by City


SOAR System
Connected to Grid

Invest in a Clean Future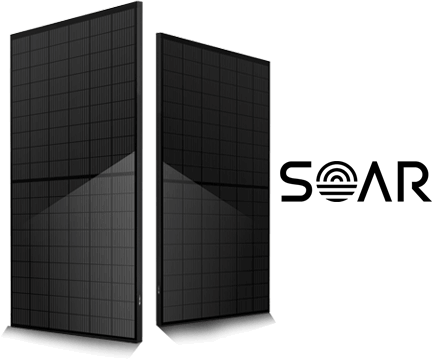 A single SOAR panel offsets as much carbon as 40 trees.
Climate change is real. Save the earth for future generations.
Power Your Home and
Preserve the Planet

Don't underestimate the
environmental benefits of
switching to SOAR.
Let's Start Saving Today!